The GWR network stretches 120 miles west from Assiniboia to Shaunavon and a further 140 miles west and south around a horseshoe of track, and 61 miles southward from Assiniboia to Coronach, as well as north of  Meyronne for 60 miles towards Swift Current where we serve terminal operations at Vanguard and Neville.
GWR owns and operates almost 700 kilometers of track which includes the Shaunavon, Vanguard, Altawan, Notukeu and Fife Lake subdivisions, and operates the Red Coat Road & Rail.  We interchanging traffic to CPKC in Assiniboia, SK.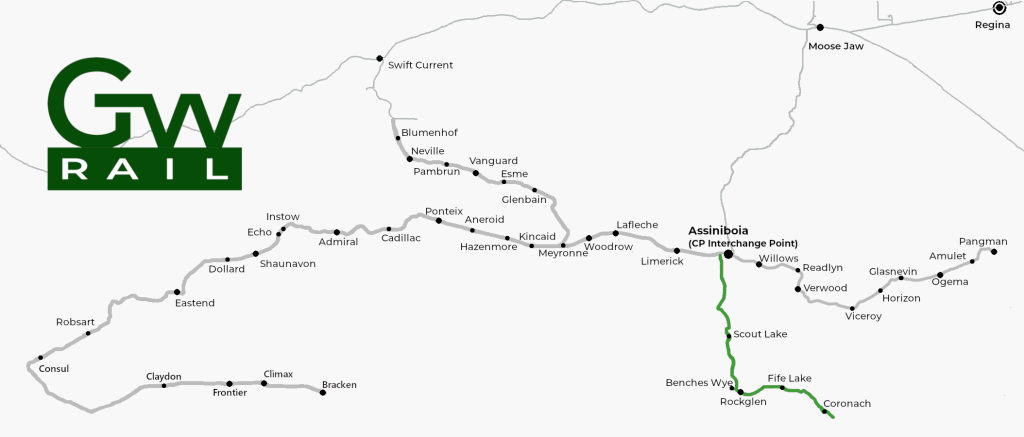 Fife Lake Railroad
In 2017 we purchased the FLR, where we operate from Assiniboia as far south as Coronach.  Our focus to grow to grow grain shipping on this subdivision has seen success with growth out of the Popular Hills Producer site, as well a new development focusing on organic grains now shipping out of our south siding in Rockglen.
Shaunavon Subdivision
Station Name / Max. Car Spot
Limerick – 35
Lafleche – 35
Woodrow – 75
Meyronne – 33
Kincaid – 35
Aneroid – 30
Ponteix – 30
Cadillac – 40
Admiral – 27
Shaunavon – 30
Altawan Subdivision
Station Name / Max. Car Spot
Eastend – 38
Robsart – 20
Consul – 15
Notukeu Subdivision
Station Name/Max. Car Spot
Claydon – 10
Frontier – 30
Climax – 20
Bracken – 15
Vanguard Subdivision
Station Name / Max. Car Spot
Glenbain – 15
Esme – 15
Vanguard – 25
Pambrun – 15
Neville – 50
Fife Lake Subdivision
Station Name / Max. Car Spot
Rockglen – 18
Red Coat Road & Rail
Great Western Railway operates and maintains another 72 miles of track along the Red Coat Road & Rail under an operating and maintenance agreement.
Station Name / Max. Car Spot
Willows – 10
Readlyn – 8
Verwood – 13
Viceroy – 10
Horizon – 5
Ogema – 28
Pangman – 5
Don't know where to start?
Are you a Shipper or Producer looking to buy or sell grain along GWR?
Great Western Commodities is our sister company and sources grain along the Great Western Railway network. Our goal has always been to provide an affordable and alternate means of moving grain from Southwest Saskatchewan. GWC helps connect shippers and producers.
Click on the button below to see all the facilities that are currently shipping on on line.
Current Bids
If you are shipper along our line, did you know you can sign up to receive notifications on open bids?  Click on the link below to sign up.