HISTORY
Great Western Railway found it's humble beginnings through the support of the local community. We were founded by people that fought to keep the railway open, and deeply rooted in their lives & in agriculture.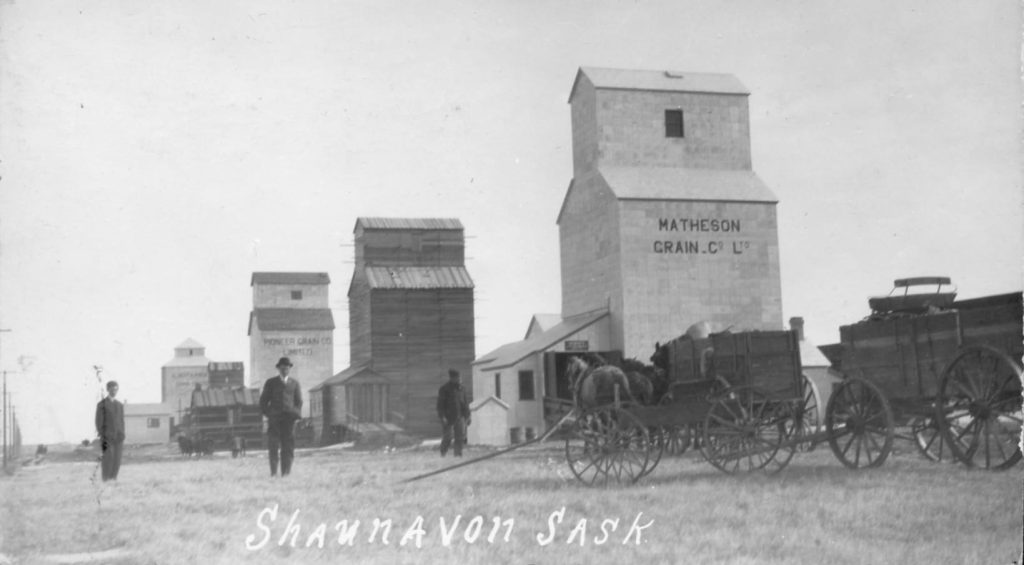 Grain Elevators in Shaunavon, SK
Circa 1930.  Pictured are four elevators in Shaunavon SK, showing Matheson Grain Co Ltd., an elevator under construction, Pioneer Grain Co. Limited, and Alberta Grain Company Ltd.
Kincaid SK
In the last two decades, both the Canadian National Railway and the Canadian Pacific Railway had divested themselves of thousands of miles of track over the Canadian prairies in favor of establishing huge grain terminals on their mainlines. This, along with the removal of the Crow Rate, which reduced the cost of shipping the grain to the world market, made it more economical for producers to ship their grain through the larger mainline terminals. These developments led to a decreased volume of cars moving via Railway, and contributed to the decision for CP Rail to abandon Great Western Railway's portion of track in Southwest Saskatchewan.
In January, 2000 CP Rail approached Westcan Rail, a BC company, to offer the 4 branch lines for sale. By May, 2000 Westcan Rail Ltd. started negotiations with CP Rail to purchase 550 km of track to set up a shortline for the area. It was proposed that Great Western Railway would become a Saskatchewan subsidiary of Westcan with the operation running out of an office in Shaunavon.
By June, 2000 an agreement had been made between the two parties for the purchase of the 4 subdivisions, Notukeu Subdivision from Val Marie to Consul; Altawan Subdivision from Consul to Shaunavon; Shaunavon Subdivision from Shaunavon to Limerick; and the Vanguard Subdivision north from Meyronne to Wymark.
The initial business plan was based on 4,000 cars shipped annually, working with local producers and grain companies to restore viability to the grain dependent rail line. Moving 4,000 cars per year by rail is equivalent to 10,000 fully loaded B-trains or 30,000 fully loaded axle trucks that would not be traveling on our secondary highways and municipal roads.
There were 23 elevators along the 332 miles of track (SWP-18; PIO – 4 and PAT-1) which played a major part in the initial business plan. However, in early August, 2000, Saskatchewan Wheat Pool announced their plans to close its 18 elevators by January, 2001. Some producers started up talks with SWP to buy the abandoned elevators to load and ship producer cars.
Sept. 8, 2000 Westcan Rail Ltd. received provincial government approval to purchase 550 km of branch lines in Southwest Saskatchewan. This announcement brought to a close an intensive negotiating process that began in May, 2000.
In the fall of 2004, GWR became locally owned when the Municipalities, local businesses and producers banded together to purchase Great Western Railway Ltd. from Westcan Rail Ltd. to keep the line from being abandoned and dismantled.
Today, Great Western Railway Ltd. moves approximately 6400 cars annually, shipping grain, fertilizer, feed & frac sand, as well as running a thriving storage car business. Besides servicing our own lines, (GWR and FLR), we also service the Red Coat Road & Rail.
Over it all, we have remained committed to supporting local communities and producers along our line, striving to maintain competitive rates for facilitating a thriving economy in the southwest.